Service Apartments Delhi
Top Rental Service Apartments in Delhi
Well Managed luxury apartments
Pocket-Friendly Tariff
In our Olive serviced apartment there are no hidden charges in our rentals, and also special discounts are offered to our esteemed guests who choose to stay longer. Our booking process is simple. We accepted credit/debit cards, bank transfers as well as the cash.
Well experienced hospitality team
Olive serviced apartments are managed by professionally-trained hospitality team that takes care of all the essential needs of the guests. Our skilled team is available 24*7 to serve you the best service. They also manage the queries about the pre & post booking for the stay in Delhi. For any assistance, you can contact us through email or contact number which is mention on our website and we will cater you with the best weekend packages and extended stay offers for our Rental Service Apartments in Delhi.
Call us at (+91) 8800333977 for Weekend apartments Packages & Special Long-Stay Offers on rental Service Apartments in Delhi.
Serviced apartments in Delhi - Available @ Olive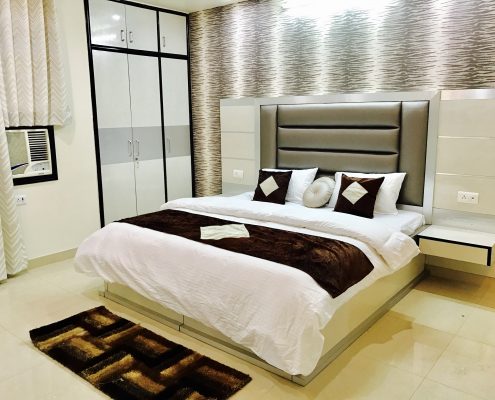 Premier Rooms
The Premier Rooms have the luxurious facilities like King/queen Size Bed, Flat Screen TV with Tata Sky HD with delicious Breakfast. The Premier rooms are spreaded in an area of 230 sq.ft with attached lavatory & awesome views balcony. Olive premier rooms are specious and have been designed for individual as well as the couple occupancy.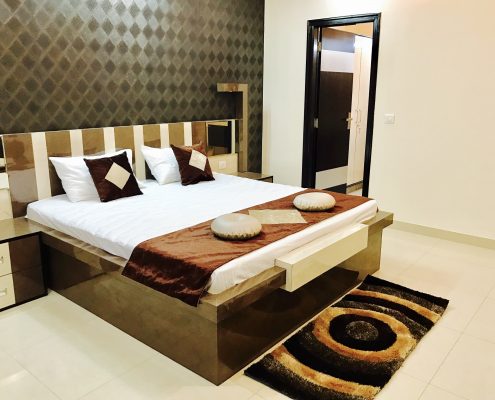 Superior One Bedroom Apartments
Our One bedroom apartment are perfect for individuals as well as couple stay. It is available in large area of 500 sq.ft. This is the place where you can relax and can enjoy like you stay at your home. Our serviced apartments comes with amenities that will make your stay pleasant like living room with attach bathroom and whole apartments connected with two to eight Mbps internet speed, Air condition, television with Tata Sky HD and so on.
---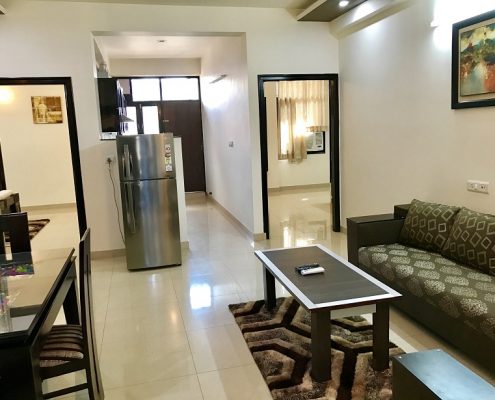 Superior Two Bedroom Apartments
Olive two bedrooms apartments in Delhi are complete suitable place to stay for those who wish to plan travelling with friends or family. Our superior two bedrooms apartments are covered with large space of 950 sq.ft. Olive superior bedrooms is well equipped with modern facilities like living room, king/queen size bed, AC, TV with Tata Sky HD channels and high speed Internet. Each room is attached with bathroom and balcony with amazing view.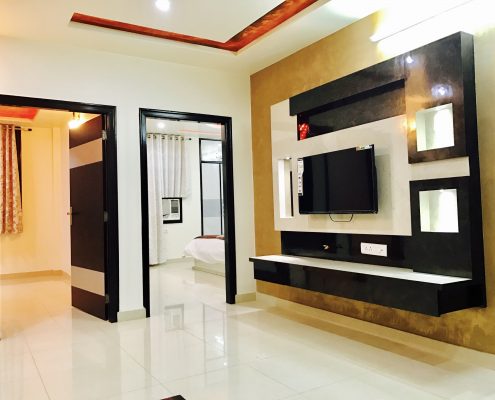 Superior Three Bedroom Apartments
If you wish to travel with your families or group of friends in Delhi or want to organize a meet with a number of people then Our Olive serviced apartments is the best option for you. We create peaceful environment where you can perform your work with cool mind or can get relax with cool ambiance. Our superior three bedrooms apartments in Delhi are available in an area of 2200 sq.ft. and is fully equipped with all modern amenities with private fully loaded kitchen with Gas stoves. Where you can make your delicious meal according to your wish.
About Us
Since 2010, our Serviced apartments are delivering the best services as per our objective of providing comfortable stay, and incomparable hospitality. Our trained and well behaved staff will serve your requirements from the moment you book, throughout the duration of your stay, until the final moment of returning your keys. You will never wish to go back after the experience of our services. Olive Serviced Apartments are an ideal choice for business/corporate or leisure traveller.
Available in different sizes

We offer 1/2/3 BHK apartments which are available in different sizes from 230 sq.ft. to 2200 sq.ft. depending upon the need at affordable rentals.

Private Kitchen with a living room

Our apartments comes with a private fully loaded kitchen and a living room. The kitchen is fully equipped and have facility of stovetop and all cookware so that guests can cook their own food the way they want and watch their favourite movie while sitting on a couch in the living room.

World class Hospitality

Our trained staff is available 24X7 for your assistance to ensure a hassle free stay for the guests. The complimentary housekeeping services include cleaning and linen changes.
It was great time while staying in Olive serviced apartments. The staff is friendly and helpful. First impression of Olive service apartments in Delhi was lovely and great . Giving me warm welcome and facilitating an early check in. This rooms were specious and attached with bathrooms. The environment was very peaceful.

We stayed at Olive service apartments in delhi for a short business trip. The location was excellent, spacious apartment with basic facilities, well experienced staff is most friendly by nature. The specious room was full of latest facilities like Air condition, Television with Tata sky HD channels. We love to stay their.

It's my pleasure to share my experience with Olive Serviced Apartments. Staff here is very professional and courteous. The best thing about these serviced apartments is it provides best facilities in affordable price.
Recognised by Top Portals
Because of latest equipments and modern facilities we are able to extend special care for our esteemed guests.
We have been receiving gratitude from our visitors through their esteemed reviews on TripAdvisor and other travel portals. Also, on a regular basis, Olive serviced apartments receive positive feedback messages on social media platforms from our happy customers.
100% Money Back
We insure that our guests have Guaranteed Satisfaction while being here in Olive Service Apartments in Delhi. And in case if they are not satisfied we commit to pay back their money without any questions.
Best Price Guaranteed
Olive apartments in Delhi give special care to visitors. We assure to provide the luxurious amenities at the best pricing.
Transparent Price
We don't charge any hidden cost and taxes are included in our rentals where as other guest house & hotels charges extra on the bill. We are completely transparent about our policies.
About the City of Delhi
In Delhi wholesale market at Azadpur is Asia's largest vegetable and fruit market. Above 3,000 trucks bring in vegetables and fruits here daily for over 30,000 retail vendors.
There is a place on the street of old Delhi named as Khari Baoli, is the Asia's largest wholesale spice market. If you love spiced food, then you should visit this place.
Delhi metro is the world's thirteenth largest metro system in terms of length. If you want that real sense of knowledge about life, get inside a Delhi metro. The average daily ridership of metro is 2.4 million commuters.
Dilli Haat is where each state of India finds expression in handicrafts, art, music with delicious food items to apetite your taste buds with various Indian cuisines. Madhubani paintings, batik print kurtas or Kolhapuri chappals are the famous things available here.
INA is every cook's favorite place to shop.This place is famous for fresh vegetables, imported meat, seafood, herbs, bread and more.
And when we talk about tourist place in Delhi then how can we forget to mention these place like Qutub Minar, Red Fort, India Gate, Lotus Temple, Purana Qila, Akshardham Temple, Rajghat and so on. These are the famous tourist attraction places in Delhi.
Delhi have amazing city life, you can make Parties at Hauz Khas Village and if you are qawwali lover then listen to the qawwali at Nizamuddin Dargah.
The places which give Delhi its identity
Jama Masjid,
Qutub Minar
India Gate
The Red Fort
Humayun's Tomb
Lodi Gardens
Red Fort,
Lotus temple,
Purana Qila,
Akshardham Temple
History of Delhi
These days Delhi might not be able to show its imperial self to you because of it's rush and traffic. But if you take a step back, and dive into the attractive history of the capital city, you will be fascinated by what you see.
It is a city of cities, built and destroyed several times. The Legend of Mahabharata talks about the beauty and wealth of the mighty Indraprastha, which over five thousand years ago, was built by Pandavas as their capital in the same region.
During the time of Britishers, New Delhi came into existence. The foundation stone of the city was laid by George V, Emperor of India during the Delhi Durbar of 1911. It was designed by British architects, Sir Edwin Lutyens and Sir Herbert Baker.
Delhi is the historically and culturally rich capital of India. Do visit the city to know better about India's history.
Olive Service apartments In Delhi
We provide the options of 1/2/3 bedroom apartments along with premier and classic rooms to our esteemed guests to choose as per their preference. The rooms are spacious and are attached with the living room that has proper seating couches for relaxing. Our
studio apartments
are ideally suitable for couples and families.
By providing fully loaded private kitchen, we encourage our guests to prepare food by themselves as usually done at your home. And if you do not wish to cook food then you can order fresh and tasty food from our Menu card at a nominal charge.
1What are different accommodation options available?
We offer varieties of luxurious accommodation for our guests like commodious rooms, Vintage rooms, contemporary 1/2/3 bedrooms apartments available at reasonable rates. Keeping in mind the needs of modern business travelers, guests have access to all the amenities like Hi-Speed Wi-Fi Internet, flat screen Television with Tata Sky HD Setup Box, Air condition etc. to make your stay memorable. We offer different sizes of Studio Apartments to our guests in Delhi. All the apartments well equipped with private Kitchenettes.
2Any discounts are available?
We offer best services at an affordable range. We have special discounts on rentals for the visitors who are looking to book apartments for Weekly & Monthly basis.
3What kind of gentry visit our apartments?
The people visiting our apartments are ambitious travelers. No matter if they are traveling for leisure or business we offer them all. We also cater our services to international travelers.
4What are the places that are in the proximity?
Our apartments are located in the prime location of Delhi as the visitors can have easy access to markets, restaurants, bars,transportation (taxis, autos, OlA/Uber) etc.
5Are the rooms available for patients?
Special arrangements are made for people who visit the city for their medical treatments. We have specific rooms that can be availed for patients and special care is provided to them.